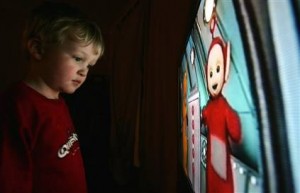 In my last post I wrote about the fact that this generation is spending 7.5 hours/day or 53 hours/week on TV, video games, music, and Internet socializing. The number of hours has increased dramatically since 2004 (then it was 4 hours/day) largely because of mobile devices that can play movies or games or provide the Internet anywhere.
Is this something that parents should be concerned about?  I think so. And it is the responsibility of parents because most of this happens after school. But what can be done? Here are three ideas.  Maybe you have more, and can share them with our readers…
Model for your children.

Have conversations at dinner or before bed where you really pay attention to what they think about some issue.  Tell them what you've been thinking, and that you're going to write it down so you won't forget it. If they see you writing, if they see you putting thought into some letter to an editor or a politician, or a poem or song, or your diary, and you talk about why it's important to you, they will follow your lead.  Let them see you pursuing new knowledge yourself. It's good for the aging brain as well as the developing brain!

You can set limits on the media.

Best to start when your kids are young, before they become rebellious teen-agers!  If they don't honor your limits, take the devices away!  Decide how much time you want them to spend on TV or video games, and then stick to it.

Provide some opportunities for challenging experiences.

During the year, set aside a few weeks for doing something completely different without bringing the media along. Maybe as a family you participate in community service and you're learning about green ecology.  Maybe you help Habitat for Humanity build houses and you're learning about construction, and measurement, and carpentry.  Maybe you take a vacation to one of our amazing national parks and you learn to camp in the wilderness.  Maybe you travel to another country and learn about another culture and language.
In 1970, my children were 11 and 13.  My husband and I were discouraged with the school system in New Orleans, and tired of arguing with our kids about TV time.  I'll tell you what we did in my next blog post…