A recent article in Education Week bemoans the fact that students are using cursive less and less, and in some cases, do not know how to read cursive. They still seem to do pretty well at printing, and reading what someone else has printed.  Interesting! My daughter is a calligrapher and loves forming letters in different "hands". But those flowing letters may become over the next years more of an art form, rather than an everyday functional way to put words on paper.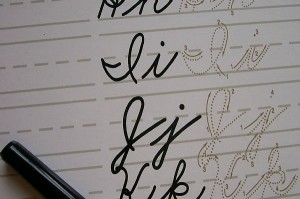 It's true that typing on the computer has become an easier way for all of us to write. Should we go back to cursive?  The educational goal for writing is for children to be able to express their thoughts in text and to edit and refine those thoughts in order to communicate clearly and effectively.  If this process is easier using a word processor—no erasing, no throwing out the paper and starting over—then children will spend more time writing and enjoy it more.  Research has shown that children write longer stories and make more edits and revisions when they use a word processor. Isn't that what we want to encourage?
However they do not write more easily on the computer if they are "hunting and pecking".  They need to learn how to type. So why are we waiting until fifth grade or later to teach children to type, when they can learn it in first grade?  It's actually easier to press keys than to bend their little fingers around a pencil and form letters.  Why not help them do both? They could establish a touch-typing habit early, so writing can become as enjoyable as possible.  What do you think?