If you have been reading this blog, you are aware of the importance of phoneme awareness and phonics to the development of early reading skills. You may already have more knowledge now than your child's teacher.  Parents can find out whether their children will be taught reading well by asking their teachers a few questions:
"Do you think it is important for children to learn that words are made of individual sounds?

How do you teach this skill? Do you teach a specific sequence?

How many sounds do you teach?"

(If teachers say they teach all 40 sounds of English, hurray!  If they say they teach the sounds of all 26 letters, you should probe further.)
"Do you think it is important for children to learn that letters stand for those sounds?  How do you teach this skill?"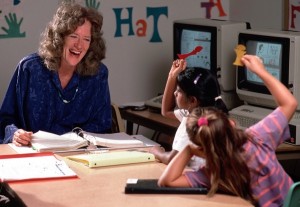 Teachers should not be blamed for their lack of knowledge about phoneme awareness and phonics.  Many have never received professional development to acquire this knowledge. A recent study in the Journal of Learning Disabilities reported on a survey of language concepts to 78 instructors. The results showed that even though teacher educators were familiar with syllabic knowledge, they performed poorly on concepts relating to morphemes and phonemes. In a second study, 40 instructors were interviewed about best practices in teaching components and subskills of reading. Eighty percent of instructors defined phonological awareness as letter-sound correspondence, instead of saying that is an awareness of the individual sounds in spoken words. They also did not mention synthetic phonics as a desirable method to use for beginning reading instruction, particularly for students at risk for reading difficulties.
You can urge the principal at your child's school to identify how your child is learning to read and suggest some professional development workshops in research-based reading instruction.  If there is no money for professional development, there are resources online that motivated teachers can access.  Reading Rockets.org is a great place to start.