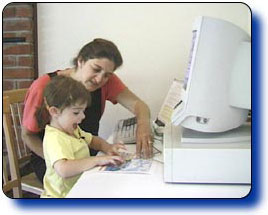 "I would like to take this opportunity to tell you how excited I am about Read, Write & Type. My 6-year-old is so enthusiastic about it, she wants to keep going and going. Your commitment to promoting the success of our children is an inspiration."
Terri Mosely
Nicasio, California

Help Your Child Get a Head-Start in Just 15 Minutes a Day!
We've all been told that children need lots of exposure to books and reading. What we haven't been told, is that learning to read is not a natural process. It requires skillful, systematic instruction. It involves understanding that the words we speak are made up of individual speech sounds (phonemes), and that letters and pairs of letters are the symbols that represent the sounds.

The Read, Write & Type provides this systematic instruction with engaging games and lively graphics. As children progress through the 40-lesson adventure, they become empowered to tackle the new words they encounter both in their reading and writing. But most of all, Read, Write & Type is fun and easy to use. You don't need a teaching degree, just a computer and the time to watch your child's confidence soar.
How Much Do You Know about Learning to Read? Take a Quick Quiz and see things from a child's perspective.
Quick Quiz #1: Take this easy test to understand how children spell
Quick Quiz #2: Test yourself about how children learn
Quick Quiz #3: Test Your child's phonics skills
Click here to view a video of students using Read, Write & Type.
---





In order to help schools integrate the Talking Fingers family of products into their curriculum, we have correlated both our software programs with the Language Arts standards of each of the 50 states.
---