Kids Love Read, Write & Type AND It Works!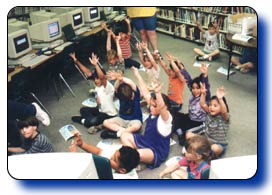 The Read, Write & Type is based on the most effective methods of reading instruction, and years of research in brain development. The program itself has been rigorously tested in elementary classrooms for over 10 years, producing significant improvements in reading. RWT brings together the fundamental principles of reading instruction, with an emphasis on writing as a route to reading, in a program packed with visually exciting and engaging games and challenges.
One School District's Success Story Using RWT
The Los Altos Unified School District in California, has been using RWT since 1991, at first testing the prototype (called Talking Fingers), and then upgrading to Read, Write & Type. In 1999, Los Altos achieved 1st place in the state of California for fourth grade reading scores!
In the March 31, 1999 issue of Education Week, Jane Croom, a parent of two children from the original project , related a personal story: her 7th grade son, who began using the program in first grade, now writes extensively and types 100 words per minute.
Does the Read, Write & Type Work for All Children?
RWT is designed to help all young children master the essential skills of reading and writing.
RWT also helps older children who are struggling with reading catch up with and exceed their grade level.
Because RWT is multi-sensory, it accommodates children's different learning styles, whether they learn best using their auditory, visual, tactile or motor skills.
RWT also works well for children who are learning English as a second language.
Click here to view a video of teachers talking about Read, Write & Type.
---





In order to help schools integrate the Talking Fingers family of products into their curriculum, we have correlated both our software programs with the Language Arts standards of each of the 50 states.
---