Read, Write & Type Research Results:
Florida State University
Dr. Joseph Torgesen, Distinguished Research Professor, and National Reading Expert, conducted a study at Florida State University with a group of first graders. Identified as at-risk for reading failure, they were evaluated over a 2-year period in a program using Read, Write & Type. The children showed large gains in reading skills from pre to post-tests, with very large gains in fluency and accuracy. Reading comprehension scores were also higher than expected based on the children's general verbal ability.
Click here to read Dr. Torgesen's report.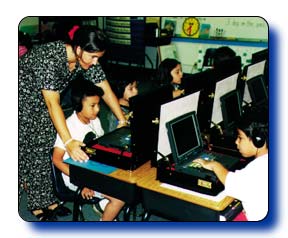 Dr. Torgesen talks about the results:
"We have been using Read, Write & Type to support small group instruction in reading for first grade children who are identified as at risk for reading failure. This project is being conducted with support from the National Institute of Child Health and Human Development. With its emphasis on phonological awareness, letter-sound knowledge and phonetic decoding in reading and spelling, Read, Write & Type is entirely consistent with recent discoveries that underline the importance of these skills to the growth of good reading ability."
"Read, Write & Type is an excellent example of the very best in computer applications to provide support for children learning to read. The program not only incorporates the most important principles of beginning reading instruction, but it has also brought them together in a package that is very engaging for children. The great strength of Read, Write & Type is that it provides explicit and systematic instruction in reading and spelling strategies in the context of meaningful and engaging writing and reading activities."
---





In order to help schools integrate the Talking Fingers family of products into their curriculum, we have correlated both our software programs with the Language Arts standards of each of the 50 states.
---