What The Experts Say About
The Most Effective Way to Teach Reading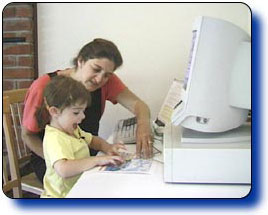 "The vast majority of studies indicate that approaches including intensive, explicit phonics instruction resulted in comprehension skills that are at least comparable, and word recognition and spelling skills that are significantly better than, those that do not. Approaches in which systematic code instruction is included along with meaningful connected reading result in superior reading achievement overall."
Marilyn Jager Adams,
Beginning to Read, A Summary,
funded by the U.S. Office of Educational Research and Improvement
and published by the Center for the Study of Reading
at the University of Illinois.
"What is the best way to teach children how to read? Old-fashioned phonics? Or the newer whole-language method that emphasizes the meaning of words? After two years of study, a panel of national experts offered an answer: Use some of both. The panel recommended that beginning readers be taught to sound out letters as the primary way to identify unfamiliar words. But the panel also endorsed several founding principals of the whole-language method, which encourages children to predict what might happen next in a story and draw inferences from surrounding clues."
"Reading Experts Back Mixing Ways to Teach,"
The New York Times,
March 19, 1998
"Long-term studies begun by the National Institutes of Health in the early 1980's... offer clear strategies for teaching children who struggle to read. Reading problems are just as common among children of above-average intelligence as among those who are lower. The N.I.H. study has concluded that both literature and phonics practice are necessary for impaired and unimpaired children alike. The phonics component is vital for the 40% of children for whom word recognition is difficult."
"Teaching Johnny to Read,"
The New York Times,
January 25, 1997
---





In order to help schools integrate the Talking Fingers family of products into their curriculum, we have correlated both our software programs with the Language Arts standards of each of the 50 states.
---