Read, Write & Type Learning System™ HOME EDITION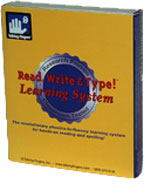 55 sound games with more than 200 word pictures
118 typing challenges with more than 200 words and phrases
40 animated stories with more than 600 words
40 Power Fountain games with 3 difficulty levels and 1,000 words
84 writing samples from real children around the world

Spaceship Challenge CD ROM
9 Phoneme Awareness Challenges with more than 90 items
9 Reading Comprehension Challenges with more than 90 items
9 Spelling Challenges with more than 90 items
Reports of individual or class progress
40 printable RWT™ stories
120 clip art pictures and Read, Write & Type Learning
System™ characters to illustrate original stories
PLUS:
Activity Book with one lesson per page, and bonus play activities to do with your child
18 level-appropriate Stories (available on our web site) that provide a reward and extra practice with the sounds and words they are learning.
The Laminated Keyboard for practicing dictated words in the car or at home
2 sets of stickers
Dear Talking Fingers' Customers:

Because the price of paper and printing continues to rise, we have opted to keep our software prices affordable by offering our 18 Reading Books in digital rather than paper format. Don't be dismayed. Your children can still read and print the level-appropriate stories from our web site, where they are available as printable PDF files. We hope you will encourage your children to visit our site after completing each level of the program, where they can read the stories for that level, as a way of rewarding them for their work. Please visit us, at: http://www.talkingfingers.com/stories to enjoy them.

Thanks, as always, for your patronage.

The folks at Talking Fingers
The Read, Write & Type Learning System™ Learning System adventure takes place in a fantasy world inside the computer. A lively gang of storytellers (Ann the Ant, Bud, the Banjo Cass the Cat, etc.) live in two houses that look like the two halves of a keyboard. A mischievous computer villain called Vexor tries to steal the letters and prevent the storytellers from writing down their stories. Two Helping Hands, Lefty and Rightway, help children foil Vexor through 40 exciting levels, building hundreds of animated sentences and stories as they go. Children are rewarded with certificates of advancement after every four letters.
NEW!!!!!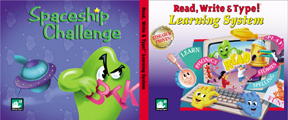 This 3-CD set includes:
1 READ, WRITE & TYPE CD
1 SPACESHIP CHALLENGE CD
CD with printable PDF files of Activity Pages, Reading Books, Practice Keyboard
---
System Requirements:
Macintosh Hardware Requirements (both CDs):
Classic Mac Systems 7.5 to 9.2 or Mac OSX
Macintosh computer 68040/33 MHz or better
Hard disk with 2 MB free disk space
8 MB available memory (RAM)
Double-speed or higher CD-ROM drive
13" (640x480) or larger monitor
256 or more color video
Mouse
(Optional: Macintosh-compatible printer)
Windows Hardware Requirements (both CDs):
Runs on: IBM(r) PC and compatibles, 486 or better, with:
Windows 95/98/ME or Windows NT/2000/XP
Windows compatible printer driver (printer is optional)
16 MB available RAM memory
Double-speed or higher CD-ROM drive
Windows-compatible Mouse
Hard disk with 2 MB free disk space
13" (640x480) or larger monitor
256 or more color video adaptor
Windows-compatible sound card
---





In order to help schools integrate the Talking Fingers family of products into their curriculum, we have correlated both our software programs with the Language Arts standards of each of the 50 states.
---