Posted by Jeannine in
phonics
,
reading
on 12 8th, 2009 |
No Comments
"One of the most fundamental flaws found in almost all phonics programs, including traditional ones, is that they teach the code backwards.  That is, they go from letter to sound instead of from sound to letter."

Louisa Moats, 1998
What do you think about this quote from Louisa Moats?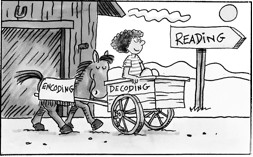 How do you teach phonics? Method A or B?  Why?
A. Print-to-Speech. Letters-to-sounds. Decoding.
Teach the alphabet song.
Associate 26 visual letters with their names.
Then teach letter sounds.
Decode a familiar word together, like CAT by identifying each letter, saying the sound that is associated with that letter, and blending the sounds together.  If the blended sounds resemble the word, the word is decoded as CAT.
Use flash cards to practice letter names, and words.
B. Speech-to-Print.  Sounds-to-letters. Encoding.
Start with a familiar spoken word, like CAT
Segment together the three sounds in the word.
From a few letter tiles, find the letters that stand for those sounds. Arrange the tiles to represent (encode) the sequence of sounds in CAT. Mix up the letters until the child arranges them correctly. Read the word. Discuss other words in the same family, like FAT or HAT.  By working with other Consonant-Vowel-Consonant words, eventually the child learns the letters that represent the 40 sounds of English.  Encode words first, then decode (read) what has been written.
How do YOU teach early reading?   Let's have a discussion!