Posted by Jeannine in
reading
,
writing
on 11 2nd, 2009 |
No Comments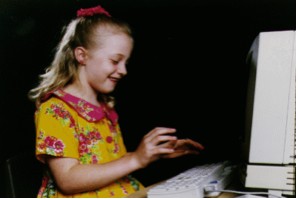 First graders can write!  And what's more they WANT to write!  The story below by Kasey, age 6, is a marvelous example, (produced in the Read, Write & Type lab at her school in Los Altos, California).
Writing is a way to learn how to think.  As E.M. Forester once said "How can I know what I think until I see what I say?" As children put their ideas on paper, they have to figure out what they know, what they believe, and what they feel. As they read what they write, the ideas are changed and perfected. The earlier they start learning this process, the earlier they will develop their ability to express ideas clearly and thoughtfully.
Writing came before reading when it was first invented.  Writing comes before reading as a natural way to begin to understand words on paper.  It is the writer who creates words for the reader to read.  It is the writer who initiates the action—who chooses the words, generates the ideas, and actively shapes the meaning of the message.  It is the writer who sees the "big picture" but who, at the same time, must assemble the whole message one piece at a time from individual sounds and letters.  Children can read without writing, but they cannot write without reading.
Children learn best by putting their ideas about the world into their own words and by telling (or writing) about them.  Getting feedback from an audience is a good way to learn whether or not their ideas make sense.
Writing makes ideas visible.  Once ideas are captured in print, children can read them over and over and think about them.  They can show their ideas to others.  As they revise their work, they become more confident about what they know, what they believe, and who they are.
"Plants grow from a seed and roots.

We grow from food and water and love.

Anamas grow from food and water.

Love grows from fathe.

Drowings grow from a pencel or cran or makr.

A brane grows from lrning.

A stoey grows from an idea."

-Kasey, First Grade