Posted by Jeannine in
education
on 08 31st, 2009 |
No Comments
Things People Have Said to Me That Changed My Life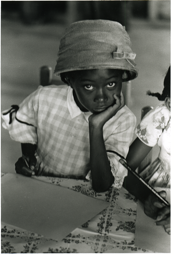 Pilgrim's Rest, Mississippi, 1965
"First, I'm gonna learn to read and write.  Then I'm goin' home an' teach my daddy!"
She was sitting alone on one of the church benches, watching some other five year olds play with the rocking horse. As co-founder and program director of the Child Development Group of Mississippi, I was visiting one of our many Head-Start projects stretched out across Mississippi that summer of '65.  We had 5,000 children signed up in a frighteningly racist state.  It was the very first Head-Start project in the country.
I wondered why she was not joining in the play. As I sat down beside her, she smiled shyly, reaching over with curiosity to touch my blond hair.
"What do you want to do here at Head-Start today?" I asked. She looked thoughtful for a moment, then her dark face lit up with a huge smile.
"First, I'm gonna learn to read and write.  Then I'm goin' home to teach my daddy!" There it was, right in my face.  The enormity of our task.  The power and importance of literacy.