This blog post from Imagination Soup suggests as the first of 5 ideas for kids who hate to read:
"1. MODEL. Read the page or sentences first.  Have your child repeat."
This strategy may help a child memorize the appearance of the words.  It does not give a child tools to decipher words on his own.
Research shows that children need to learn phoneme awareness (to identify each sound in a word) and phonics (to associate each of those 40 sounds with the letter(s) that stand for that sound).  Then they can sound-out words on their own.  The next paragraphs explain why I think it's important for parents and teachers to understand this research: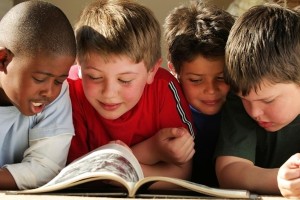 If a child hates reading, perhaps it is because the way he is being taught sets up inefficient pathways in the brain. Inefficient processing makes reading hard work, and not fun (no matter how interesting the subject matter).
Memorizing the appearance of words is a pattern recognition task. The right side of the brain is best at pattern recognition. Brain research shows that struggling readers use the right side of their brain, probably using pattern recognition strategies. But intervention with phonics not only improves their reading, but moves the brain activation to the left side where the meaning and pronunciation of words are stored. Learning to sound-out words is a better way to make sure that the 3 critical elements of reading–the visual appearance, the pronunciation, and the meaning are all stored together in the left hemisphere of the brain. With practice, the child no longer has to sound-out the words because the visual appearance is stored in the left side, and is efficiently connected to the meaning and the pronunciation of the word.
A child will stop hating reading when reading is easy. Reading will be easy when reading pathways are efficient.