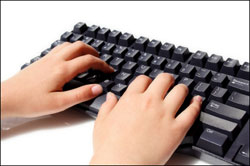 A message from Fred Lewis:
"Please read this article (Typing is the key to learning computer software). Kids need a keyboarding license before using a computer….just like a drivers license to drive.  Only Read, Write and Type does this. Middle school is way too late to teach touch typing."
Teachers are waking up to the importance of typing skills for using just about any software program. But mostly they start too late–after hunt-and-peck habits have settled in. However, thousands of children are learning to type IN FIRST GRADE as they learn basic phonics skills with Read,Write & Type.
8 free lessons at www.talkingfingers.com.