About Talking Fingers
Company Overview: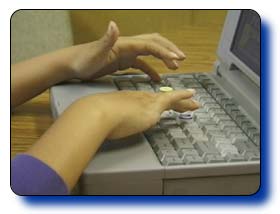 Talking Fingers, Inc., was originally a subsidiary of California Neuropsychology Services (CNS), a non-profit organization for research and education. Founded in 1982 by neuropsychologist Dr. Jeannine Herron, CNS provided more than 50 conferences in neuropsychology in major cities across the U.S. and conducted numerous research projects in schools throughout California, funded by organizations such as the W.S. Johnson Foundation, the Hearst Foundation, and the John S. and James L. Knight Foundation.
Talking Fingers, Inc. was established by the same team in 1994, with the express purpose of developing quality educational materials. Since that time, the company has been awarded four Small Business Innovative Research grants from the National Institute of Child Health and Human Development (NICHD) to develop and do research with educational products. Talking Fingers has based its software development on many years of research on how the young brain learns, and the software has been field-tested extensively in California schools.
Mission and Method:
Our goal is to empower generations of children with excellent writing, reading, and thinking skills that they can use to enrich their personal lives, earn a livelihood, and contribute toward a more literate and thoughtful society.
The Talking Fingers approach is unique and is based on a simple idea: text is speech made visible! We use our mouths to talk, to make the sounds of words. We use our fingers (with a pencil or keyboard) to represent those sounds on paper. When children learn to link speech sounds with letters, they can use the alphabet code to write any word they can say. Their fingers are "talking". This approach is aimed at maximizing the activation of the left side of the brain where skilled reading and writing are processed.
Dr. Jeannine Herron and her staff continue to develop new versions of their software for children at home and in school. In January 2009, they released an Online Edition of Read, Write & Type and in 2010 released an online edition of Wordy Qwerty.
Read, Write & Type also includes help for children learning English as a Second Language (ESL). Extensive audio help is provided in Spanish, Arabic, Malay, Mandarin, Japanese, Farsi, Tagalog, Korean and Portuguese.
---





In order to help schools integrate the Talking Fingers family of products into their curriculum, we have correlated both our software programs with the Language Arts standards of each of the 50 states.
---